Here's a way to completely rid your mind of worries and stress...this was sent to me by Di of
ABigMixedBag
(she's got over 500 items listed you should check out-all quality and priced right)


CLICK ON THE BALL (IF YOU CAN) AND IT WILL CHANGE COLOR...
It can be done...Try it and let me know how many different colors you managed to change...
This is insane!!


Insanity Ball..Click to play

So, how'd you do?
Now, allow yourself a little down time and there is no better way to do that than to sit with your favorite beverage in front of your friendly computer and spend a little quality time shopping at OLA
CLICK HERE for Online Auction
Check out some of my advertising memorabilia like this Tullamore Dew small pitcher. Isn't it cute? A great addition to your bar or barware - bargain priced!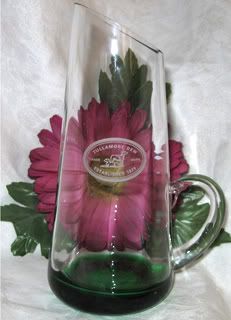 I have another Tullamore Dew pitcher but it is a small pottery ceramic pitcher...equally as attractive! Check them and my ashtrays out!
Don't forget to buy VINTAGE!!