Airline security idiocy of the day: Milblogger Michael Yon handcuffed, Joan Rivers blocked
By Michelle Malkin • January 5, 2010 12:38 PM File under "Homeland Security is a Joke."
Milblogger/independent war correspondent extraordinaire Michael Yon reports that he was stopped at Sea-Tac airport and handcuffed by TSA agents:
Got arrested at the Seattle airport for refusing to say how much money I make. (The uniformed ones say I was not "arrested", but they definitely handcuffed me.) Their videos and audios should show that I was polite, but simply refused questions that had nothing to do with national security. Port authority police eventually came — they were professionals — and rescued me from the border bullies.
'I've met Michael and have blogged about his enterprising war coverage as an embed in Iraq and Afghanistan for years. The idea of him being treated as a national security threat and handcuffed is as ridiculous as anything we've seen from Janet Clown-itano and her cadre.' said Malkin.
Speaking of ridiculous airline security episodes:
Joan Rivers is many things: Funny lady. Jewelry mogul. Red carpet mercenary. But a terrorist?
Can we talk?
Rivers, 76, was deemed a danger to national security and booted from a Newark-bound flight in Costa Rica on Sunday by a jittery Continental Airlines gate agent who found the two names on her passport fishy.
Her passport reads: Joan Rosenberg AKA Joan Rivers. Rosenberg was her late husband's last name.
The "nasty and cruel" Continental gate agent bumped Rivers from the last flight out Sunday and the comedian found herself alone (her daughter, Melissa, flew out to Los Angeles earlier in the day) and with no ATM card and just $100 cash, she said.
Rivers' tale of woe put a famous face on travel's new reality – one that leaves many feeling like common criminals.
"If I were going to make up an alias, I wouldn't pick Rosenberg. I'd pick Jolie or Pitt," said Rivers, back home Monday in New York with her sense of humor intact. "Do terrorists wear Manolo Blahniks? I can tell you Donna Karan does not make anything that hides a bomb," she said.
We're at Code Red Elmo on the Homeland Insecurity Scale. Totally hillarious and pathetic at the same time....
How about a collectible souvenir ashtray from Rock Bound Coast, San Remo, Victoria, Australia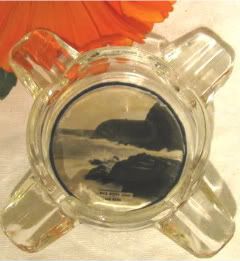 See info on this ashtray here
Stop by and spend a little time browsing at
Supergrannys Treasures
.